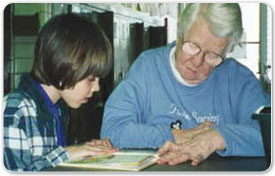 RSVP seeks to enrich the lives of volunteers, age 55 and older, through meaningful service opportunities that match their life skills and interests to community needs.
The Retired and Senior Volunteer Program (RSVP) of Rock County, Inc. is one of 17 Wisconsin Programs sponsored by the Corporation for National and Community Service. Nationally there are over 760 RSVPs with over 460,000 volunteers. Rock County RSVP was organized in 1973. It was sponsored locally by Voluntary Action Center. In 1987, RSVP became incorporated in the State of Wisconsin as an independent non-profit agency.
RSVP works to:
Increase the variety of volunteer opportunities for older adults
Involve senior volunteers in planning and decision-making in programs, on community boards and committees.
Increase public awareness concerning contributions and needs of older adults.
Improve the image of aging.
Provide opportunities for intergenerational projects and activities.
Offer senior volunteers the opportunity to make a positive impact in their communities.
ATTENTION
WE ARE HAVING ANOTHER FUNDRAISER AT MAC'S PIZZA
COME JOIN US FOR THE BEST PIZZA IN JANESVILLE AND SUPPORT RSVP
JOIN YOUR FRIENDS ON
THURSDAY, NOVEMBER 11, 2021
4-8 p.m.
MAC'S PIZZA SHACK
2307 MILTON AVENUE
JANESVILLE, WI
RSVP WILL RECEIVE A PERCENTAGE OF THE PROCEEDS FROM 4-8 p.m.