'BABES' USE PUPPET SHOWS TO PROMOTE GOOD CHOICES
| By AMANDA RESEBURG Special to the Daily News
BELOIT – When retirement comes, how do people keep their minds sharp, hands busy, and feel they are still giving back to the community?
The ladies involved in the Retired and Senior Volunteer Program (RSVP) program BABES (Beginning Awareness Basic Education Studies) do so by performing educational puppet shows for local kindergarten through second grade classes.
The BABES program is just one of the various options for local seniors who would like to volunteer via RSVP. The shows require a little bit of courage, a sense of whimsy, and a desire to deliver teachable moments to children.
Volunteers enlist puppets to deliver a series of tales to kids about the dangers of drugs, peer pressure and the importance of making sound decisions. It was designed in 1979 and first performed in Seattle, Washington.
The BABES founders developed a cast of characters perfect for getting their message across to young children.
There is Buttons and Bows, a kitten who receives many of the lessons. Friend Myth Mary often comes along to cajole them into bad acts or breaking the rules. The owl, Donovan Dignity, acts as the voice of reason and imparter of wisdom. Recovering Reggie is a dog who has a few vices and is looked to as an example of asking for help and receiving it. Other characters, such as Early Bird, Rhonda Rabbit, and Blindy Bloodhound, fill in when needed.
These characters are all controlled by local volunteers such as Sharon Dressler, Sue Madere, Cindy MacNees and Mary Anne Sveom. The ladies come together with their scripts and animal voices ready to help children learn important life lessons in language they can understand, delivered in a way that is palpable and fun.
"I'm a retired children's librarian," said Madere. "So it gives me a chance to keep my silly animal voices in tune."
Sveom, who plays Myth Mary, sought out a program like BABES after experiencing empty nest syndrome after her daughter got married.
"At first I was in a cold sweat, but now Myth Mary is a part of my body," Sveom said.
The ladies arrive at the school performance space and set up behind their backdrop, a painted forest area named "Pudding Heights."
As group director Laura Anastasi narrated one day's lesson, the various characters popped up and recited their script in playful animal voices. The children were engaged and spoke back to the characters, answering questions from the narrator, and closing out each lesson with a song called "I Am Special."
The ladies feel that by showing they can get out and perform, others will believe they can as well.
They hope they are paving the way for other locals who may feel the call to volunteer.
"We are setting a good example," Madere said. "So our brains don't turn to guacamole!"
This is a comment which prompts MacNees to quickly to pipe in with "But guacamole is good!"
The BABES program, like many of the RSVP opportunities, is always accepting willing volunteers. For more information about getting involved, call 608-362-9593.
Blackhawk Golden "K" Kiwanis Club Awards
The Blackhawk Golden "K" Kiwanis Club recognized two of our volunteers for all they do for the community. Kathryn Bakke has volunteered at the Rock Co Courthouse, multiple Intergenerational programs and various stations over the years.   Eugene Durkee donates countless hours to the Rock Co Historical Society. One might say he is a local history buff. He also volunteers at the Hedberg Library. Both are a valuable asset to RSVP as well as the community.
RSVP volunteers Mary Quaerna and Rob Wilkinson were recently recognized by the Blackhawk Golden "K" organization.  Since starting with RSVP these two volunteers have contributed over 27,000 hours of service!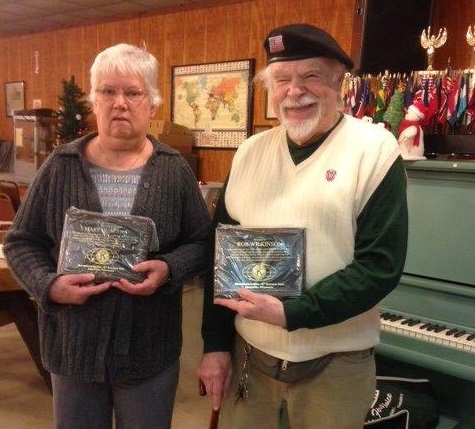 RSVP had a great time at the Senior Fair in Beloit!
Other events….