'BABES' USE PUPPET SHOWS TO PROMOTE GOOD CHOICES
April 13, 2018 at 7:45 am | By AMANDA RESEBURG Special to the Daily News
BELOIT – When retirement comes, how do people keep their minds sharp, hands busy, and feel they are still giving back to the community?
The ladies involved in the Retired and Senior Volunteer Program (RSVP) program BABES (Beginning Awareness Basic Education Studies) do so by performing educational puppet shows for local kindergarten through second grade classes.
The BABES program is just one of the various options for local seniors who would like to volunteer via RSVP. The shows require a little bit of courage, a sense of whimsy, and a desire to deliver teachable moments to children.
Volunteers enlist puppets to deliver a series of tales to kids about the dangers of drugs, peer pressure and the importance of making sound decisions. It was designed in 1979 and first performed in Seattle, Washington.
The BABES founders developed a cast of characters perfect for getting their message across to young children.
There is Buttons and Bows, a kitten who receives many of the lessons. Friend Myth Mary often comes along to cajole them into bad acts or breaking the rules. The owl, Donovan Dignity, acts as the voice of reason and imparter of wisdom. Recovering Reggie is a dog who has a few vices and is looked to as an example of asking for help and receiving it. Other characters, such as Early Bird, Rhonda Rabbit, and Blindy Bloodhound, fill in when needed.
These characters are all controlled by local volunteers such as Sharon Dressler, Sue Madere, Cindy MacNees and Mary Anne Sveom. The ladies come together with their scripts and animal voices ready to help children learn important life lessons in language they can understand, delivered in a way that is palpable and fun.
"I'm a retired children's librarian," said Madere. "So it gives me a chance to keep my silly animal voices in tune."
Sveom, who plays Myth Mary, sought out a program like BABES after experiencing empty nest syndrome after her daughter got married.
"At first I was in a cold sweat, but now Myth Mary is a part of my body," Sveom said.
The ladies arrive at the school performance space and set up behind their backdrop, a painted forest area named "Pudding Heights."
As group director Laura Anastasi narrated one day's lesson, the various characters popped up and recited their script in playful animal voices. The children were engaged and spoke back to the characters, answering questions from the narrator, and closing out each lesson with a song called "I Am Special."
The ladies feel that by showing they can get out and perform, others will believe they can as well.
They hope they are paving the way for other locals who may feel the call to volunteer.
"We are setting a good example," Madere said. "So our brains don't turn to guacamole!"
This is a comment which prompts MacNees to quickly to pipe in with "But guacamole is good!"
The BABES program, like many of the RSVP opportunities, is always accepting willing volunteers. For more information about getting involved, call 608-362-9593.
Blackhawk Golden "K" Kiwanis Club Awards
The Blackhawk Golden "K" Kiwanis Club recognized two of our volunteers for all they do for the community. Kathryn Bakke has volunteered at the Rock Co Courthouse, multiple Intergenerational programs and various stations over the years.   Eugene Durkee donates countless hours to the Rock Co Historical Society. One might say he is a local history buff. He also volunteers at the Hedberg Library. Both are a valuable asset to RSVP as well as the community.
Recognition Dinner 2017
Every year, RSVP hosts a Recognition Dinner to celebrate another year all of our volunteers help the community.  There is music, dancing, great food and a wonderful auction and raffle items.  Here are a few pictures from the event:
RSVP volunteers Mary Quaerna and Rob Wilkinson were recently recognized by the Blackhawk Golden "K" organization.  Since starting with RSVP these two volunteers have contributed over 27,000 hours of service!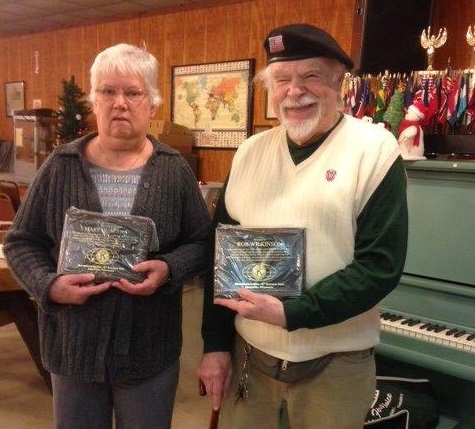 RSVP had a great time at the Senior Fair in Beloit!
Local group runs bookstore in library
By ERIN KELLY Staff writer | Posted: Tuesday, September 6, 2016 4:00 pm
Beloit Public Library's hidden gem
BELOIT — Friends at Beloit Library isn't the most visible organization in Beloit. It organizes books in an office on the second floor of the Beloit Public Library and in a warehouse on the first floor and doesn't have any flashy signs or attention-grabbing colors near their few permanent bookshelves across from the library's check out on the first floor.
"A lot of people don't even realize we have this wonderful bookstore in our library," FABL treasurer Kris Grutzner said.
With about 30 volunteers who put in a combined total of approximately 275 hours a month, the organization has raised $19,235 as of the end of July to be used for projects that might otherwise remain unfunded ideas.
FABL is a nonprofit that manages a bookstore in the library. The books they sell are either discarded from the library or donated. Funds are used for projects such as the summer library club, book clubs, performers who visit the library and contests.
"We try to make sure that all of our money is used for the public, because we want our library to be friendly," Grutzner said. "We want people to come to our library."
Grutzner estimates they've sold about 30,000 to 50,000 books in 2015, which makes her extremely happy, she said.
"We didn't think we would be able to raise that type of money," she said.
The bookstore sells all sorts of genres such as romance, history, art, animals, mystery, cookbooks and science fiction. The bookstore also sells more than just books, such as DVDs, audiobooks, CDs, VHS tapes and bookbags.
FABL's permanent shelves near the checkout have books that are sold whenever the library is open, but each month, FABL hosts a special event they call Super Second Saturday Sales.
"It's a way for us to clean house and make sure we get books in people's hands," Grutzner said.
The next few sales are from 10 a.m. – 2 p.m on Sept. 10 and Oct. 8.
Hardcover books are sold for 50 cents and paperback and children's books are sold for 25 cents.
All the books at the Sept. 10 sale will not have been in previous sales, Grutzner said.
FABL used to host a big annual sale but decided to change it to much smaller monthly sales to make it easier on volunteers.
Grutzner said there are all sorts of goodies to find at the sales.
"I always say it's like Christmas, because you never know what book you'll find," she said.
Other events….